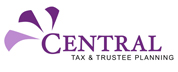 Central Tax & Trustee Planning LLP
"The only things of certainty are Death and Taxes." (Benjamin Franklin)
That may be true but we pride ourselves on being able to find ideas and solutions to help our clients reduce or eliminate tax wherever possible using low risk solutions like Registered Pension plans.
CTTP act as Independent trustee to a number of pension arrangements. The Partners of CTTP have considerable experience in financial matters and in running pension schemes and are members of the Association of Member Directed Pension Schemes.
Small Self-administered schemes (SSAS) provide a very tax efficient means of a company building up a substantial pool of assets to provide retirement benefits for directors and executives. At the same time facilities are available to manage a scheme's investments in a manner, which helps in the company's development. Please contact us or your Independent Financial adviser, for more information.
Central Tax & Trustee Planning LLP only acts as trustee and does not provide investment advice. Our services are therefore not regulated by the Financial Conduct Authority.